Volunteer Opportunities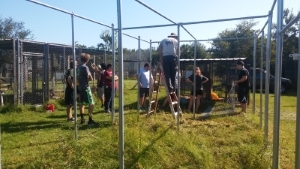 Become a part of Elmira's family of helping hands. We welcome humans and critters, but the animals need you. We need you. Choose a time commitment you're comfortable with and that your life allows. We need volunteers as often as once a week, but we can work with your schedule if you can only volunteer once a month. This is an incredibly enriching, unique volunteer opportunity. Some of the help needed includes working with the animals, guiding tours, keeping up the grounds and helping with fundraisers. We need your talent, expertise, ambition, and a few hours of your time.
Keeper
Animals require daily care. They need to be fed and cleaned up after. Be aware this volunteer position involves lifting, contact with raw meat and cleaning animal enclosures. Keepers work 365 days a year, sometimes in extreme weather conditions. Other daily tasks need to be performed such as taking out the trash, cleaning the kitchen and household tasks.

Minimum time commitment is 4 hours per week.
Tour Guide
Tour guides are needed to perform guided tours of the sanctuary. This volunteer position requires learning about the animals and the sanctuary in order to relay that information to the public.

Minimum Time commitment is 2 afternoons per month.

Tours: Saturdays at 11 a.m., 12:30 p.m. an 2:00 p.m. (2 p.m. only October - April) First Sunday of every month at 12:30 p.m. and 2:00 p.m.
Maintenance
This volunteer position consists of grounds keeping, enclosure building and maintenance, special projects and general cleaning and maintenance.

Time commitment is open
Work/Volunteer Groups
If you are a part of a church group, sorority, fraternity, or school club and you need to find a place to volunteer we more than welcome work groups. Work groups can do a variety of tasks including yard work, maintenance of enclosures and beautification of the sanctuary.
Internships
Animal care and Marketing internships are available for qualified students. Please contact us at info@elmiraswildlife.org for more information.
Special note for volunteers under 18
Volunteers under the age of 18 must be accompanied by a parent or guardian when volunteering. Underage volunteers may perform a variety of tasks and will be evaluated on a case by case basis. Bright Futures hours and Scouting project proposals are welcome.
If you've read this far, you have an obvious interest in the welfare of the animals that call Elmira's Wildlife Sanctuary home. Come join us and feel the inspiration of lending your hand to care for a tiger, bear, wolf and all the other animals in need of your caring. Thank you.
Download our application here and email it to info@elmiraswildlife.org or mail it to Elmira's Wildlife Sanctuary, PO Box 63, Wimauma, FL 33598. No phone calls please.